People
Martin Beck (until April 2019)
There has been a long-standing collaboration between the work groups of Holger Class and Rainer Helmig in Stuttgart and the group of Robin Gerlach and Al Cunningham at Montana State University. The intensive scientific exchange resulted in a number of high-ranked joint publications.
In the Biofilm Center at MSU Bozeman, there is an outstanding experimental facility which will be of great use for Research Project C04. Altogether, within SFB 1313 the successful joint research is expected to be continued.
Research
Porosity and permeability are two major hydraulic properties that govern flow through porous media. Different kinds of processes can lead to alterations of the pore space which eventually change the hydraulic properties. This project focuses primarily on fluid-solid interfaces that are prone to change as a result of microbial activity. The alterations need to be measured experimentally and interpreted on the scales of interest by means of numerical simulations. It is also required to improve the efficiency of corresponding complex numerical simulation methods.
Publications in Project C04
Hommel, J., Coltman, E., & Class, H. (n.d.). Porosity--Permeability Relations for Evolving Pore Space: A Review with a Focus on (Bio-)geochemically Altered Porous Media. Transport in Porous Media, 124(2), 589--629. https://doi.org/10.1007/s11242-018-1086-2

Cunningham, A. B., Class, H., Ebigbo, A., Gerlach, R., Phillips, A. J., & Hommel, J. (n.d.). Field-scale modeling of microbially induced calcite precipitation. Computational Geosciences. https://doi.org/10.1007/s10596-018-9797-6
For further information please contact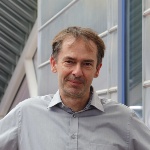 apl. Prof. Dr. Ing.
Holger Class
Principal Investigator, Research Project C04, Central Project Z