Research
The long-term goal of this project is to develop new visualization techniques to support the projects of the CRC in understanding flow, transport and deformation phenomena occurring at interfaces in and around porous media. This requires the integrated visual analysis of processes captured across multiple fields to relate different quantities, analyse simulation ensembles, and compare simulations against experiments. The interactive exploration of large and heterogeneous volumes of data is achieved by efficiently using parallel architectures as well as in-situ data aggregation.
Publications in Project D01
de Winter, D. A. M., Weishaupt, K., Scheller, S., Frey, S., Raoof, A., Hassanizadeh, S. M., & Helmig, R. (2020). The Complexity of Porous Media Flow Characterized in a Microfluidic Model Based on Confocal Laser Scanning Microscopy and Micro-PIV.

Transport in Porous Media

.

https://doi.org/10.1007/s11242-020-01515-9

Zhang, H., Frey, S., Steeb, H., Uribe, D., Ertl, T., & Wang, W. (2018). Visualization of Bubble Formation in Porous Media.

IEEE Transactions on Visualization and Computer Graphics

, 1–1.

https://doi.org/10.1109/TVCG.2018.2864506
For further information please contact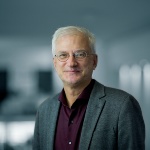 Prof. Dr. rer. nat. Dr. techn. h.c. Dr.-Ing. E.h.
Thomas Ertl
Principal Investigator, Research Project D01, Project Public Relation