People
Christian Bleiler (until December 2018)
The group of Oliver Röhrle and the group of Boyko Gueorguiev-Rüegg at the AO Research Institute (ARI) at Davos have a long-lasting collaboration. In particular in the field of vertebroplasty, this collaborative research has lead to joint publications. A current joint research project is on using computational models and experimental set-ups to derive new implant designs by investigating, from a biomechanical point of view, bone growth in children subject to medical interventions.
The experimental work conducted at the ARI will provide the basis for some of the simulations related to the validation of the pore and REV scale models of Research Project C03 as well as laying out future research potential of investigating the injection process into fractured vertebrae. Investigating the effects of injecting bone cement into a porous structure will be done in close collaboration with the ARI. All experimental studies will serve as the driving force behind developing methodologies for the image-based estimation of pore parameters and validating the
newly derived upscaling concepts for effective REV-scale parameterisations.
Boyko Gueorguiev-Rüegg and his group from the ARI will assist in interpreting and validating the proposed computational models, in particular with respect to clinical relevance and will significantly contribute with their expertise in publishing experimentally related research.
Research
The effectiveness of bone-cement injection during vertebroplasty is highly dependent on the cement-injection-distribution pattern, the interface effects between the porous bone structure and the initially liquid cement, as well as the curing process of the bone cement itself. Taking vertebroplasty as motivation, this project aims at taking into account interface and material deposition processes on the pore scale to describe material-injection processes in porous media on the REV (representative elementary volume) scale. The modelling process will be exemplified on vertebra-like structures.
Publications in Project C03
For further information please contact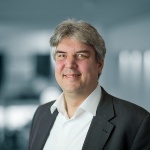 Prof. PhD
Oliver Röhrle
Principal Investigator, Research Project C03
Dr.-Ing.
Arndt Wagner
Principal Investigator, Research Projects B02 and C03