Future Doctoral Workshops
Doctoral Workshop 2020
The IRTG-IMPM Doctoral Workshop 2020 will take place on September 14 at the IBZ Eulenhof in Stuttgart, Germany.
Past Doctoral Workshops
Doctoral Workshop 2019
The IRTG-IMPM Doctoral Workshop 2019 took place on 19th March 2019 in Blaubeuren, Germany. It was jointly organized with the SFB Status Seminar 2019, which was held from 20th to 22nd March 2019 at the same place.
The program of the Doctoral Workshop 2019 can be found here.
Doctoral Workshop 2018
The first doctoral workshop took place from 24th to 26th September 2018 at Bildungshaus St. Luzen in Hechingen. More information about the event and the preliminary programme can be found here.
For further information please contact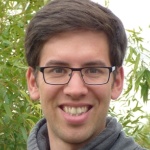 M. Sc.
Simon Emmert
Coordinator Integrated Research Training Group, Postdoctoral Researcher