The second year training of doctoral researchers consists of specialised short courses given by the researchers of the SFB and the international partners. At least 3 credits must be achieved by full and associate members of IRTG-IMPM. For more information on the content of the courses offered by the IRTG-IMPM please scroll further down.
In addition, the doctoral researchers of IRTG-IMPM are invited to attend courses offered by DROPIT and the GS SimTech:
Accommodation for course participants from outside Stuttgart
Campus.guest
Universitätsstraße 34
70569 Stuttgart
Römerhof Hotelbetrieb GmbH
Robert-Leicht-Straße 93
70563 Stuttgart
Hotel am Feuersee
Johannesstraße 2
70176 Stuttgart
Alex 30 Hostel
Alexanderstraße 30
70184 Stuttgart
Hotel Pflieger
Kriegerstraße 5-7
70191 Stuttgart
For further information please contact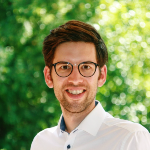 Simon Emmert
Dr.-Ing.
Postdoctoral Researcher, Associated Research Project CX1