The Cluster of Excellece PoreLab of the Norwegian University of Science and Technology / University of Oslo (Norway) and the Collaborative Research Center (SFB) 1313 as well as the Excellence Cluster SimTech of the University of Stuttgart are very much looking forward to their cooperation meeting. From 12 to 14 June 2023, scientists from all three institutions will come together at the University of Stuttgart to foster exchange and cooperation.
The three-day-workshop will await participants with interesting talks, lively discussions, and possible cooperation topics. The program will include presentations of the structure and overall goals of the SFB 1313, SimTech and PoreLab and visits of the experimental facilities at the University of Stuttgart.
Date: 12 to 14 June 2023
Location: IBZ Eulenhof, Robert-Leicht-Straße 161, 70569 Stuttgart
About PoreLab
Created in 2017, PoreLab is situated at the Norwegian University of Science and Technology (NTNU) in Trondheim and the University of Oslo (UiO). PoreLab focuses on the physics of porous media using experimental, theoretical and computational methods. With this it is highly relevant for SBF 1313 in general and SimTech's Project Network 1 in particular.
Already having strong bonds with the University of Bergen (Norway), SimTech and SFB 1313 now broaden their international network and cooperation with research institutions in Norway which will be based for example on former collaborations between SFB 1313 spokesman/principal investigator Rainer Helmig and SFB 1313 principal investigator Joachim Groß with PoreLab.
Topics
Presentations of the structure and overall goals of SFB 1313 / SimTech and PoreLab
Visit of the expermental facilities at the University of Stuttgart
Presentation of SFB 1313's project areas
Research themes:

Thermodynamics of flow in porous media
Deformable porous media
Experimental characterization of immiscible two-phase flow in porous media
Nanoporous Media and Gels
Thermodynamic Driving Forces
Microfluidics and field studies
Applications
Steady-state experiments and coarse-grained modeling
If you have any questions about the meeting or your stay, please feel free to contact our SFB 1313 managers Katharina Heck: katharina.heck@iws.uni-stuttgart.de or Beate Spinner: beate.spinner@iws.uni-stuttgart.de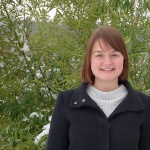 Katharina Heck
Dr.-Ing.
Postdoctoral Researcher, Management, Research Project A02, Project MGK