Research
New, more general interface conditions are required to couple free-flow and porous-medium systems since traditional coupling concepts provide reliable results for simplified cases only. Averaging theory is a powerful mathematical tool that can be applied to derive such conditions. The objectives of this project are to (i) derive new interface concepts for single- and multi-phase flow systems using averaging techniques, (ii) validate the newly developed interface conditions, and (iii) develop robust and efficient numerical methods for coupled flow problems.
Publications in Project A03
Rybak, I., Schwarzmeier, C., Eggenweiler, E., & Rüde, U. (2020). Validation and calibration of coupled porous-medium and  free-flow problems using pore-scale resolved models. Comput. Geosci. https://doi.org/10.1007/s10596-020-09994-x

Eggenweiler, E., & Rybak, I. (2020). Interface Conditions for Arbitrary Flows in Coupled Porous-Medium and Free-Flow Systems. In R. Klöfkorn, E. Keilegavlen, F. Radu, & J. Fuhrmann (Eds.), Finite Volumes for Complex Applications IX - Methods,Theoretical Aspects, Examples (Vol. 323, pp. 345--353). Springer International Publishing. https://doi.org/10.1007/978-3-030-43651-3_31

Eggenweiler, E., & Rybak, I. (2020). Unsuitability of the Beavers–Joseph interface condition for filtration problems. Journal of Fluid Mechanics, 892, A10. https://doi.org/DOI: 10.1017/jfm.2020.194
For further information please constact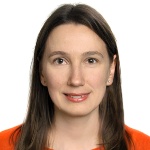 PD Dr.
Iryna Rybak
Principal Investigator, Research Project A03