Multiphase Flow and Reactions in Porous Media
Key information
Date: March 27th - 29th, 2019
Prerequisits: Basic knowledge on multiphase flow and biotic/ abiotic reactions in porous media. For new students in the field it is possible to also attend the introductory lecture on these topics from March 25th - 26th, 2019 also located at University of Stuttgart. Please register for this course also below.
Costs: The course is free of charge but you will have to cover your travel expenses and accomodation costs yourself
Detailed description
The three-day workshop focuses on biotic and abiotic reactions in porous
media. Key topics are biofilm growth and biotic reactions of bacteria as well as
salt precipitation and reaction of different salts.
The workshop is offered by Al Cunningham (Montanta State University), Sander
Huisman, Rainer Helmig and Holger Class (University of Stuttgart).
The aim is to combine presentations of the participants with lectures by the
experts of the field and give room for discussions.
For students at Master level or doctoral students who have recently started to work
in the field of porous media, there is the possibility to attend a lecture on
multiphase flow and reactions on March 25th and 26th just before the workshop.
It will give an introduction to the relevant processes governing multiphase flow
and transport in porous media as a basis for the following workshop.
The workshop is organised by the Collaborative Research Centre 1313 (SFB
1313) "Interface-Driven Multi-Field Processes in Porous Media" located at the
University of Stuttgart.
Workshop on Multiphase Flow and Reaction in Porous Media - Registration Form
Registration Form for the Workshop on Multiphase Flow and Reactions in Porous Media
Important Date: Registration is open until Friday, 1st March 2019
The information you provide in the form below is needed to complete your registration for Workshop on Multiphase Flwo and Reactions in Porous Media and will only be used for this purpose.
You will find further information on data protection here.
In accordance with §§ 21, 22 LDSG you also have the right of information and – if necessary – correction of your stored data on request and free of charge. For these purposes please send a written notice to the data security officer (Datenschutzbeauftragter) of the Universität Stuttgart, Breitscheidstraße 2, 70174 Stuttgart.
After having sent your application, you will get a confirmation via e-mail. If you don't receive such a confirmation, please contact sfb1313@iws.uni-stuttgart.de.
Contact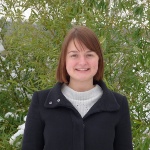 M. Sc.
Katharina Heck
Doctoral Researcher, Management, Research Project A02